On the evening of 18 October 2023, the auditorium at NUST Lower Campus resonated with discussions of unity and shared responsibility for Namibia:
Vice Prime Minister and
SWAPO Presidential Candidate
Netumbo Nandi-Ndaitwah
engaged with German-speaking Namibians in a dialogue themed
Harnessing each other's competitive advantages
for a better Namibia
At the event, attended by approximately 120 individuals and hosted by the Windhoek branch of the Forum for German-Speaking Namibians, Nandi-Ndaitwah discussed her vision for Namibia's future. During the question and answer session, she shared her thoughts on a range of issues, including economic development, nation building, and the role of the private sector.
The engagement between Nandi-Ndaitwah and the German-speaking citizens of Namibia marked a significant step towards fostering unity, understanding, and collective progress in Namibia. The dialogue underscored the importance of shared responsibility, continuous engagement, and the need to harness the nation's competitive advantages for a brighter, peaceful and prosperous future.
Event programme / OVERVIEW
---

Brief opening remarks by director of proceedings/moderator
– Desmond Amunyela –
Read summary …
*
Welcoming remarks by Chairperson of Forum of German-Speaking Namibians
– Harald Hecht –
Read complete "State of Nation" address …
*
Brief remarks and introduction of SWAPO Vice President andd presidential candidate
– Sophia Shaningwa –
Read summary …
*
Keynote statement by SWAPO Presidential Candidate
– Netumbo Nandi-Ndaitwah –
Read summary …
Who is NNN?
NNN Fact Box

Question & Answer session
Moderated by Vice-Chairperson of Forum of German-Speaking Namibians
– Benita Herma –
Read summary …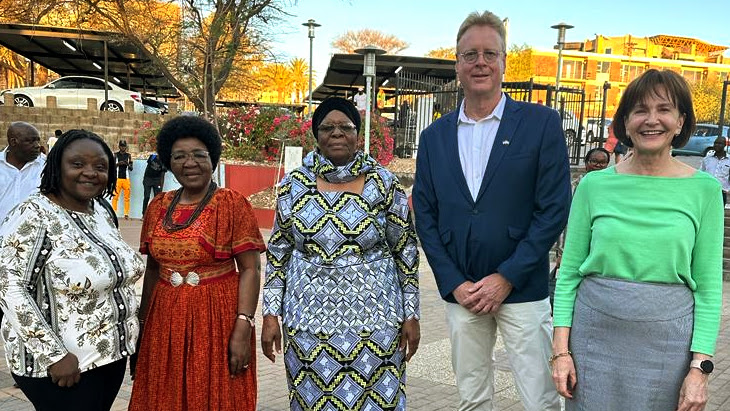 BRIEF OPENING REMARKS BY DIRECTOR OF PROCEEDINGS/MODERATOR
– Desmond Amunyela –
The event was inaugurated with opening remarks by Desmond Amunyela, district treasurer of Windhoek East Constituency, who welcomed everyone and introduced himself. He quoted John F. Kennedy and Namibia's Founding President Dr. Sam Nujoma, emphasizing the importance of unity and cooperation.
He reiterated that the purpose of the meeting was to have an open and honest discussion as a Namibian family, and that the insights gained from the engagement should inspire everyone for the future. He stressed that Netumbo Nandi-Ndaitwah should not be seen as a Messiah who can solve all problems, but rather as a candidate whom SWAPO trusts is best suited to become a leader in a united environment. He emphasized that this can only be achieved through shared responsibility between leaders and the community.
"STATE OF THE NATION" ADDRESS
– Harald Hecht –
Download "State of the Nation" address as PDF
Watch selected recording of speech on Facebook thanks The Namibian
Honourable Mrs Netumbo Nandi-Ndaitwah, current Deputy Prime Minister and Minister of International Relations and Cooperation and SWAPO Presidential Candidate for the 2024 national elections, Mrs Sophia Shaningwa, Secretary-General of SWAPO, Mr Elliott Mbako, Regional Coordinator for SWAPO Khomas Region, Mrs Freya Gruenhagen, Director of the Friedrich Ebert Stiftung, Director of Ceremonies Desmond Amunyela, Members and Friends of the Forum of German Speaking Namibians, media representatives, ladies and gentlemen – all Protocol observed. We would like to welcome you all to this auspicious occasion!
My name is Harald Hecht and I am the proud chairman of the Forum of German Speaking Namibians.
The main goal of the Forum is as follows:
The Forum of German-Speaking Namibians, motivated by their civil responsibility, their love and loyalty to Namibia, and being an integral part of the multicultural, multilingual Namibian society, commits itself to participate in an effective and meaningful way in the public life in Namibia and thereby contribute to the wellbeing of the country and all its people.
We feel extremely honoured to being able to engage with Honourabe Mrs Netumbo Nandi-Ndaitwah here tonight and regard this opportunity as afforded as a special measure of appreciation by you for which we are very grateful and feel very honoured! Thank you very much for being here tonight Honourable Netumbo Nandi-Ndaitwah!
I would briefly like to reflect on the last 33 years since Independence and would like to start with some of the commendable achievements we can all be proud of as a Nation:
Namibia is governed by a world-famous and well-respected and recognised constitution which is based on a separation of powers by the executive, legislative and judicial branches. Namibia was the first African country to incorporate protection of the environment into its constitution.
Namibia has created the enabling conditions that link economic incentives with environmental management and wildlife conservation.
Namibia ranks 22nd in press freedom among 180 countries worldwide and number one in Africa! The socalled Windhoek Declaration was adopted thirty years ago.
Namibia is one of the most peaceful, safest and also politically stable countries in Africa.
Regular presidential, general assembly, regional and local elections are being held with transition of power and the President of the country is restricted to two terms in office.
Currently Namibia is being identified as a potential global player in the worldwide energy transition from fossil fuels to renewable energy in the international de-carbonisation strategy. At same time recent oil and gas discoveries have put Namibia also into the global limelight. These apparent contradictions have to be managed, however but we are confident that this can be done with due professional care and skill.
And here are the biggest challenges for Namibia:
Structural inequality. Effect of colonialism and Apartheid not mitigated in 33 years of independent Namibia. Gini Coefficient, German Speaking Namibians. Poverty and unemployment, food insecurity are increasing daily and rapidly which is tantamount to an Infringement of the Social Contract which we have in terms of Article 95 of our Constitution and which deals with the "promotion of welfare of the people"
Economic vs political independence
Health and Education ministries are seriously compromised and deserve immediate intensive care and a bold rescue plan
Dignity of the people lost. No regular water supply, no access to toilets. The measure and character of a Nation is adjudged in how we treat the poorest in our society. I think we agree that we have failed as a NATION – all of us here included.
Corruption and mismanagement / lack of expertise and basic knowledge / cadre deployment. Critical appointments not being made based on merit.
Ease of doing business
Reintroduce and walk the talk re National Reconciliation
Political maturity re handling of coalitions
Growing disillusionment by the local business sector
Master plan for the future:
All Namibians to join hands in the true sense of One Namibia One Nation. A further key objective of the Forum of German-Speaking Namibians is to contribute towards promoting Namibia as an attractive business location and may – should the occasion arise – act as mediator between local and foreign enterprises and institutions. I can tell you from personal experience from the last 18 months that significantly more and more foreign investors are looking at Namibia! So we are doing a lot right still!
Independent Namibia is now 33 years old and is well-positioned from a political stability viewpoint and coupled with the relevant degree of political maturity and political willpower to embrace and implement all the exciting new developments in inter alia the green hydrogen, oil and gas and lithium sectors. We should now strive for the highest degree of prudence, courage as well as maximum accountability and transparency to succeed as a Nation in implementing these promising projects to the benefit of all Namibians and with maximum local content where possible.
What we lack clearly is the required capacity in a lot of sectors, so Capacity Development in the very short term will become a key objective. But at least now we have scope and hope for our young Namibians in the Diaspora, so some of the capacity required in a future Namibia can be filled by our highly skilled and trained Namibians whom we have currently "exported" overseas. Many young Namibians in the Diaspora and prompted by their love and loyalty for Namibia are waiting for a chance to return to the land of the brave. It is up to all of us here tonight to join hands and provide the appropriate platforms to facilitate the return of our young Namibians!
Activate Sovereign Wealth Fund, also known as Welwitschia Fund as soon as possible. Restore the dignity of our people by providing basic human needs like housing, regular water, electricity and sanitary services. Maybe now is the time to consider implementing BIG – the Basic Income Grant – as a short term measure from royalties, taxes and levies received from the new industry sectors of green hydrogen oil and gas and minerals extraction in general and paid into the Sovereign Wealth Fund. We have to maintain and sustain the social peace in Namibia which is currently in real jeopardy.
Restore investor confidence.

Zero tolerance on corruption. Another Fishrot scandal would be fatal to the trust of the international investor community. Your well-known stance of zero tolerance on corruption, Honourable Nandi-Ndaitwah, is therefore an important first and critical step in the right direction.
Provide certainty in terms of NEEEB and Investment Promotion Bill and investors status and permits
Improve on the ease of doing business. Increase and enhance the capacity of NIPDB.
Market Namibia as a tax heaven for wealthy individuals where no inheritance tax, donations tax or capital gains tax applies.
Serious turnaround strategies for a lot of parastatals. The loss of Agribank of NAD 250m for the last financial year as recently reported in the media – thanks to freedom of press- is just one sad example.
Leave the business environment to the private sector with minimal political interference and let economic market forces prevail. The State of Namibia – through the elected government of the day – to provide the regulatory frameworks and ensure the maintenance of social and economic peace in terms of our Constitution.
Strive for economic independence! Why not? Energy self-sufficiency would be an important start.
Role of FDN – civil responsibility. We cannot win elections for any political party. But we are ready to take up our place in the Namibian house. And this is why I think that tonight's theme is very appropriate:
"harnessing each other's competitive advantages for a better Namibia".
Through unity in diversity we will be stronger as a Nation. Changing of mindsets is required and we should not get distracted too much by past events. Let's go forward together by looking back and learning. The Forum is there to partner anybody and everybody who wants to take Namibia forward.
Namibia is all we have! One Namibia One Nation!
I thank you!
Harald Hecht
Chairperson – Forum of German-Speaking Namibians
BRIEF REMARKS AND INTRODUCTION OF SWAPO VICE PRESIDENT
– Sophia Shaningwa, SWAPO Party Secretary General –
Shaningwa introduced Nandi-Ndaitwah as a dedicated diplomat and a force to be reckoned with. She has been a long-standing member of SWAPO and is ready to take on her responsibilities as president, not to perform miracles, but to work with the larger community to bring Namibia forward.
Nandi-Ndaitwah accepted the invitation to the meeting to underscore the significance of collaborative efforts, Shaningwa noted. Nandi-Ndaitwah was a freedom fighter who had consistently voiced her opposition to colonialism and its consequences. This, sitting together as black and white citizens, just underscored the imperative for all citizens to unite for a peaceful Namibia.
Shaningwa pointed out that both herself and Nandi-Ndaitwah had studied in Europa – and that the German- speaking Namibians place was in Namibia, not in Europe.
Shaningwa asked the audience what they expect from Nandi-Ndaitwah when she takes over from President Geingob. What resources can be redeployed to address poverty and what can the FDN do to help Nandi-Ndaitwah? Nandi-Ndaitwah was at the meeting to talk about her plans, but also to listen to the audience's questions.
Shaningwa urged everyone to vote for Nandi-Ndaitwah in the next election – but, above all, to use their right to vote and participate in Namibian politics.
KEYNOTE STATEMENT BY SWAPO PRESIDENTIAL CANDIDATE
– Netumbo Nandi-Ndaitwah –
One of the key themes that Nandi-Ndaitwah emphasized was the need for Namibians to change their mindsets. She argued that Namibians need to be more focused on working together and less focused on tribal divisions. She called for Namibians to be more entrepreneurial and to take advantage of the country's abundant natural resources.
Nandi-Ndaitwah also discussed the importance of economic development. She acknowledged that Namibia still faces many challenges, including poverty and unemployment. However, she expressed optimism about the country's future and said that she is committed to working with all stakeholders to create a more prosperous Namibia.
In particular, Nandi-Ndaitwah highlighted the importance of agriculture. She said that agriculture is one of the key sectors that can create jobs and boost economic growth. She also called for Namibians to invest in agriculture and to develop new technologies to improve productivity.
Nandi-Ndaitwah also discussed the role of the private sector in Namibia's development. She said that the private sector is essential to creating jobs and driving economic growth. She also called for the private sector to be more inclusive and to create opportunities for all Namibians.
Overall, Nandi-Ndaitwah was optimistic and forward-looking and expressed her commitment to working with all stakeholders to create a more prosperous and inclusive Namibia.
QUESTION & ANSWER SESSION
– moderated by Benita Herma –
Following her keynote statement, Nandi-Ndaitwah responded to specific questions from the audience. For example, she was asked about her plans to address corruption and to improve the investment climate in Namibia. She said that she is committed to fighting corruption and that she is working with the private sector to improve the investment climate.
Here are some specific viewpoints expressed by Nandi-Ndaitwah during the question and answer session:
On economic development: "We need to focus on economic development and job creation. We have the resources to do this, but we need to change our mindsets and work together."
On nation building: "We need to unite as Namibians and focus on our common goals. We need to leave behind the divisions of the past and build a better future for all."
On the role of the private sector: "The private sector is essential to our development. We need to create an environment where businesses can thrive and create jobs."
On corruption: "We are committed to fighting corruption. We will not tolerate corruption in any form."
On the investment climate: "We are working to improve the investment climate in Namibia. We want to make it easier for businesses to invest and create jobs."
Attendees raised concerns about the Joint Declaration that has faced criticism from various stakeholders. Nandi-Ndaitwah addressed these concerns, emphasizing the government's commitment to consultations and the ongoing negotiations related to the Joint Declaration.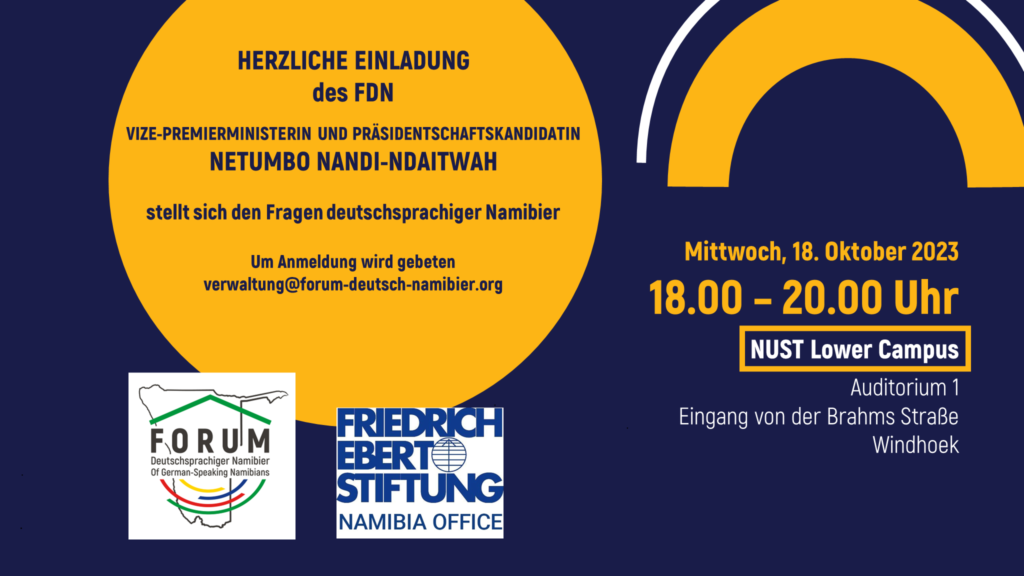 Who is NNN?
Netumbo Nandi-Ndaitwah: Namibias erste Staatspräsidentin?

afrika süd | Heft 3/2023 | Henning Melber
Mit der Wiederwahl von Netumbo Nandi-Ndaitwah zur Vizepräsidentin der Swapo scheinen die Würfel gefallen. Wenn die Partei ihren bisherigen Spielregeln folgt, ist sie damit zur Nachfolgerin von Hage Geingob gekürt – sowohl als Kandidatin für die Wahl des Staatsoberhaupts im November 2024 wie auch als Parteivorsitzende. [Mehr …]
Nandi-Ndaitwah's moment of truth

The Namibian | 21 April 2023 | Tileni Monghudhi
Netumbo Nandi-Ndaitwah spent her 21st birthday in prison. Her crime was protesting a spate of arrests of Swapo leaders. From August to December 1973, she and her comrades were imprisoned. When they were released, many were sentenced to public flogging. She didn't face the whip herself, but she soon fled the country to join the struggle in exile. When forced to witness such cruelty, some people get hardened and vengeful. But Nandi-Ndaitwah took a different path, joining Swapo's diplomatic efforts. [More …]
NNN Fact Box
Source: The Namibian | 04/2023
1952: Born on 29 October at Onamutai, Oshana
1966: Joins Swapo
Primary and secondary schooling at St Mary's Missionary School
1971: Imprisoned at Ondangwa
1974: Goes into exile, chairs Swapo's Youth League, and visits UN General Assembly
1975-76: Studies in the Soviet Union for a year
1976-1978: Swapo deputy chief representative in Lusaka
1980-1986: Swapo's representative in Dar es Salaam
1989: Returns to Namibia and becomes a member of parliament
1990: Appointed as deputy foreign minister
1996: Appointed as women's affairs director general
2002: Appointed as minister of women's affairs and child welfare
2005: Appointed as information minister
2008: Appointed as environment and tourism minister
2012: Appointed as foreign affairs minister
2015: Appointed as deputy prime minister and international relations minister
2017: Elected as Swapo's first woman vice president

Education
Master's degree in diplomatic studies from Keele University, UK, in 1989
Post-graduate diploma in international relations in 1988
Post-graduate diploma in public administration and management from Glasgow College of Technology, UK, in 1987
Diploma in work and practice of communist youth movement from Lenin High Kosomol School, Union of Socialist Soviet Republics (USSR) in 1976